It was second grade, on a cold Valentine's Day. I was passing out cards to everyone, not that they cared, but I had attached candy to the cards. They all cared now. Such power, much wow. It's not like they knew I ate most of the candy the day beforehand. I would've eaten them all, but I decided there needed to be enough candy left for the cards.
Anyways, I sat there gnawing on my own candy stash, and a boy walked up to me. He handed me my card back.
In place of the cheesy quote, which in this case was "hang ten",
he left me a "Hang in there", with a dead guy on a noose.
I
I don't
I have indeed awakened and have been born today.
A better term for this would probably be an "epiphany". I find myself having more of those "Aha" moments than ever. From things as simple as, "OH! I could stop being lazy, and that would get things done!", to things as complex as, "OH! If I were to stop reading manga all night, I would get sleep, and if I were to get sleep, I wouldn't be as cranky, and if I weren't so cranky, I would stop complaining, and if I stopped complaining all the time, I'd have extra time to read manga all night."
Wait
A
Second.
.
.
.
Yeah, I should stop being so lazy.
Back to the flashback,
What I ended up realizing was that there was no point in giving out the cards, since they had about as much meaning as the quotes on them. They were just some cheesy tidbits I didn't even inspect before handing out. I finally came to the conclusion that, at the end of the day,
it was
all about
the
CANDY.
CAAAAAAAAAAAAAAAAANDDDDDDDDDDDDDDDDDDDDDDDY.
There was no reason to hand out cards. They were just there. Why hadn't I just given out candy to everyone? Or eat it all myself? It was a paradox. I was "celebrating" Valentine's Day by not really celebrating it at all.
Maybe that second grader knew what he was doing after all. Handing that card back to me, maybe he was trying to tell me: There is no purpose in doing this if you're not going to do it right. You're killing the Valentine's Day spirit.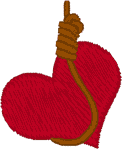 He was right. It was so obvious. The dead dude was Valentine's Day, and I was the noose. What could I do? Well, in my mind, there was only ONE thing I could do now. Never celebrate Valentine's Day again and eat all the candy myself.
Lesson learned. And what a sweet lesson it was.
.
.
.
.
.
.
.
.
.
"KEEP YOUR KANDY TO YOURSELF AND EAT IT ALL. FORGET ABOUT ALL OF THEM. BLEHHH." -Gollum 2015